The Lady Gardener is excited to announce that she is now taking bookings for two exciting new floral workshops that she is hosting throughout February and March!
The first is entitled Red For Romance and teaches you how to make Valentine themed floral arrangements to surprise your loved ones with. It also comes with a complimentary red rose wrap!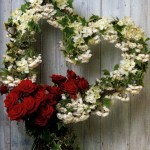 The second workshop is entitled Love Your Mum and teaches you how to create beautiful bouquets and floral basket arrangements with a Mothers Day theme. An amazing half price discount is being offered on this to any mum who brings along their son or daughter or for any loving child wanting to surprise their mother with a fantastic day of floristry!(half price on second person only)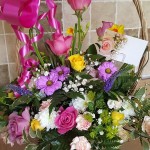 Both workshops are open for all and come highly recommended for those of you who have a passion for nature, a love of art and a mind eager to learn! Refreshments are also provided.
To make a booking or for further inquiries on The Lady Gardener's floristry workshops, please contact Ruth on: 07775664420 or email her at: ruth@the-lady-gardener.com . Make sure to do so fast however as placements for each workshop are filling up fast!
Coming soon: Details on the Easter Floral Workshop.