Category Archives: Publications
You can read our informative regular monthly gardening article in "Otterbourne Life" the local community magazine
The Lady Gardener is set to have an informative article published about her inspirational life story in the upcoming November edition of Country Gardener magazine!
For those who wish to know more about how she came to embrace her talents, follow her dreams and dedicate her life to beautifying our homes and gardens, this magazine is a must! Best of all, it's free to pick up at garden centres across the country!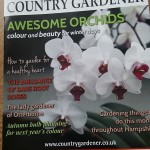 You can read our informative regular monthly gardening editorial in 'The Directory' : a community magazine covering Winchester and the surrounding areas.